Below is a view from Langdales Wharf of Pool's Baths and Laundry in about 1900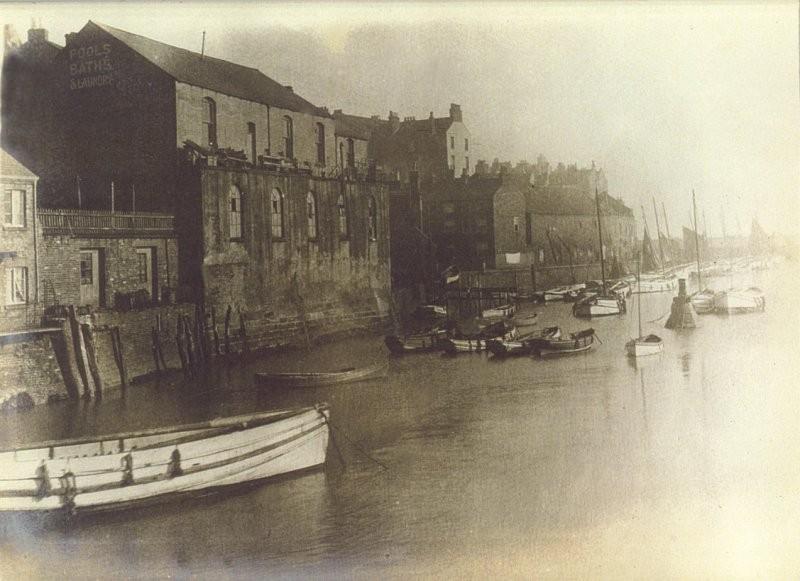 The details of the facilities provided at the Baths and Laundry are revealed in the transcript below from the Bridlington Quay Illustrated of 1892 which promotes the Victorian ethic of cleanliness.
POOL'S
BATHS AND STEAM LAUNDRY
QUEEN'S SQUARE
In providing Bridlington Quay with the great advantages that his dual businesses offer Mr. Pool has been a public benefactor. The two are akin to each other, in that they are both aids to health and cleanliness, two qualities which are absolutely essential to the proper enjoyment of life.
Turning our attention in the first place to
THE BATHS,
we find an institution that could do credit to a much larger town than Bridlington. The place is arranged and constructed in the most suitable manner, offering a really surprising amount of accommodation. It may possibly be asked, what do we want with baths at Bridlington, with the sea so handy? Well, in the first place, Mr. Pool offers visitors much more than an ordinary sea-bath, and in the second, there are many days when even accomplished swimmers would not care to face the elements, and to the ailing or delicate, of whom so many come here in search of health, a tepid sea-bath is a positive luxury. Again, it is a great relief to mater-familias to know that her young charges are enjoying a good sea-bathe without any suspicion of danger attaching to their juvenile freaks. The swimming bath, although a fine one, is not however the greatest object of importance at " Pool's; " Turkish baths are provided, as well as shower and slipper baths, and the scrupulous cleanliness characterising the whole of the arrangements is particularly noticeable. The baths are open from 6 a.m. to 9 p.m. on week-days, and in addition the swimming bath is open from 7 a.m. to noon on Sundays. Towels and bathing dresses are supplied if necessary, and female attendants are retained to wait on lady-patrons. The abundant supply of fresh and sea-water, direct from theBay is a great convenience, and adds no little to the baths' attractions; the place is well patronized, as it deserves to be', "Pool's Baths " having become quite one of the Institutions of Bridlington Quay.
Of no less importance than the Baths, is the capitally managed
STEAM LAUNDRY,
worked by the proprietor. Although we look to allow ourselves a certain licence in our mode of dressing when at the sea-side, we are as particular as ever about having our things clean and well "got up." The ways of the ordinary rural washerwoman are, however, very often peculiar, and it is something to be desired to find a place where satisfaction in laundry matters can be assured. To meet such a want Mr. Pool started his Steam Laundry, and having, at considerable expense, fitted it with all the necessary appliances; can guarantee work being turned out here that certainly cannot be equalled in Bridlington Quay. The place is divided into suitable departments, and whichever we visit, be it the receiving, sorting, washing, drying, ironing, or folding rooms, we find the work going forward with the utmost regularity and despatch. No injurious chemicals are used in washing the clothes, and in fact they are subject to far less strain here than they are when washed by the old primitive methods at home, and in that they are "got up" in a far superior manner cannot be denied. When possible all articles are dried in the open, but good drying rooms are provided for use in unfavourable weather.